Events
Get to know FRAMENCE!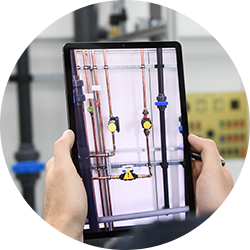 The "Spirit of Technical Innovation" is has deep roots in our company.  In our In-House FUTURE.LAB we meet the demands on the latest technologies by researching on disruptive technologies such as AR, IoT, AI and machine learning. In our lab we continuously advance digitization by using our prior expertise and the innovative FRAMENCE technology.
To continue showing our results to future companies we regularly offer guided tours in small groups – all in compliance with the current hygiene measures.