Use Cases
Uncover the vast range of applications for our photorealistic digital twins and pioneer a new era of digitization for your buildings and facilities!
Central Information Provision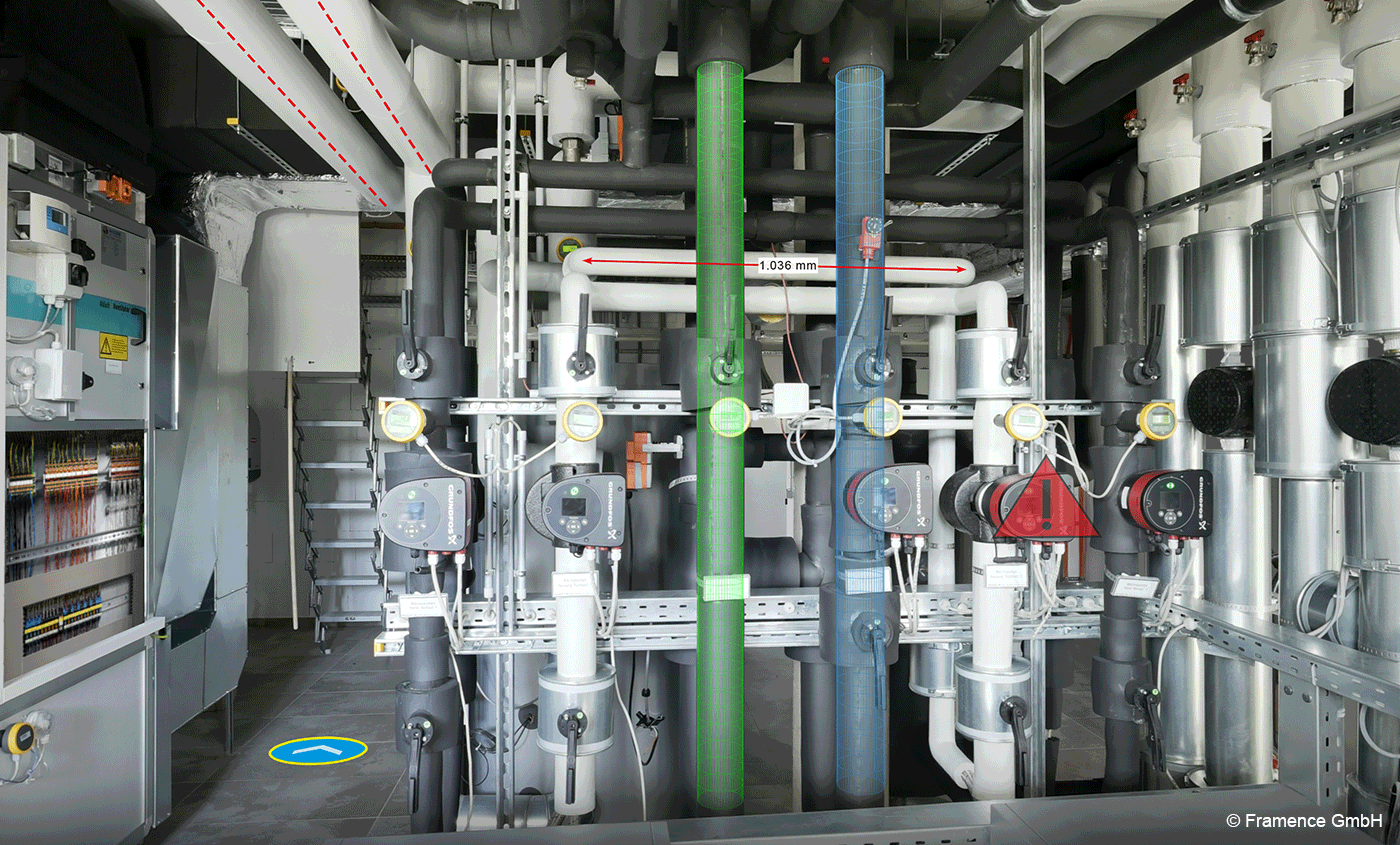 The generation of vast amounts of data over the lifecycle of an asset is a given. However, when you need to access that data ad hoc, you often have to spend a significant amount of time searching for it across multiple systems.
With FRAMENCE, we put an end to this time-consuming data search by providing a "single point of data access". With our photorealistic digital twins, you can easily locate and retrieve all the necessary information with just a few clicks. And if you prefer to work in a third-party system, we've got you covered too. Simply jump to the system and continue working seamlessly. It's that easy.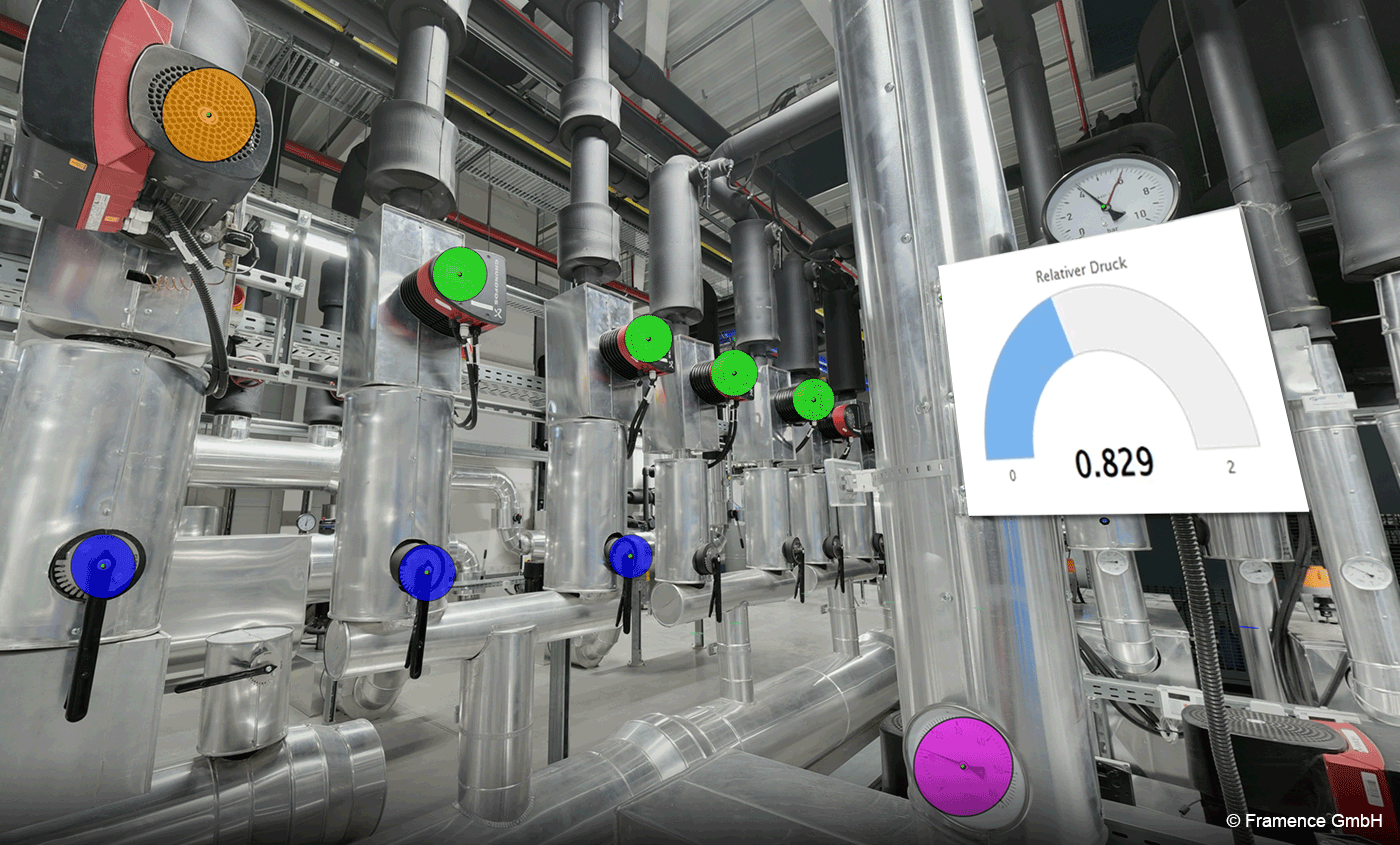 Asset documentation is a critical element for the safe and reliable operation of buildings and technical systems. However, it can be a daunting challenge for operators to keep it up to date.
With FRAMENCE, you can update your image models with new images at regular intervals or after changes. With our integrated timeline feature, you can also revisit past situations with ease. But that's not all – we've made it easy to mark and describe important assets with points of information (PoI) or link them directly to data from third-party systems. This means that all the information you need is just a click away.
Precise Measurements to the Millimeter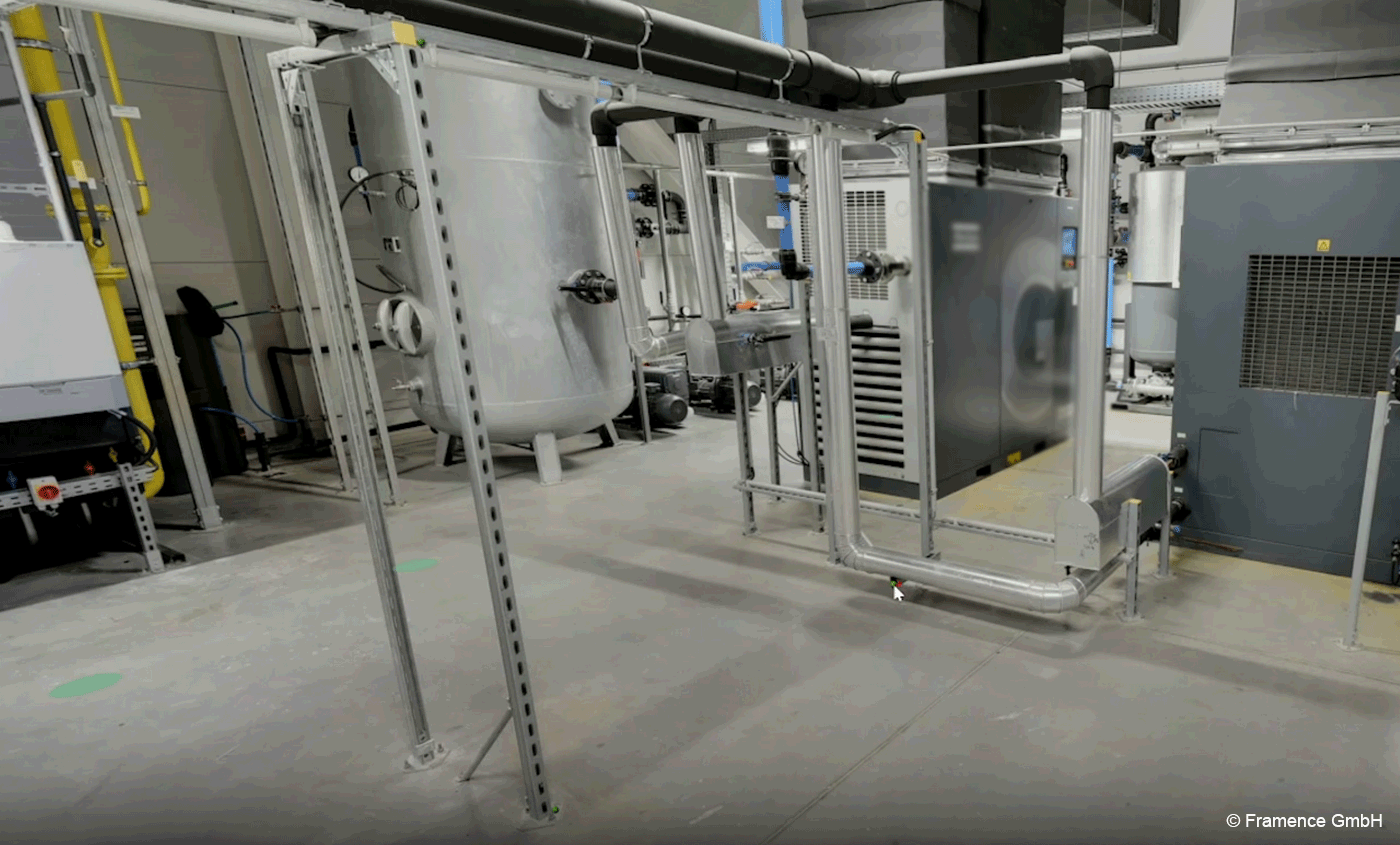 To ensure the practical effectiveness of a digital twin, having features that make you feel as if you were right there on-site is crucial. That's where FRAMENCE steps in, making high-precision measurements a breeze, all from the comfort of your desk.
With a single click, you can effortlessly measure any length, distance, or asset with millimeter precision. No need to hit the road; now you can check if that new asset fits perfectly into its planned spot while working from home.
Support of Maintenance & Repair Tasks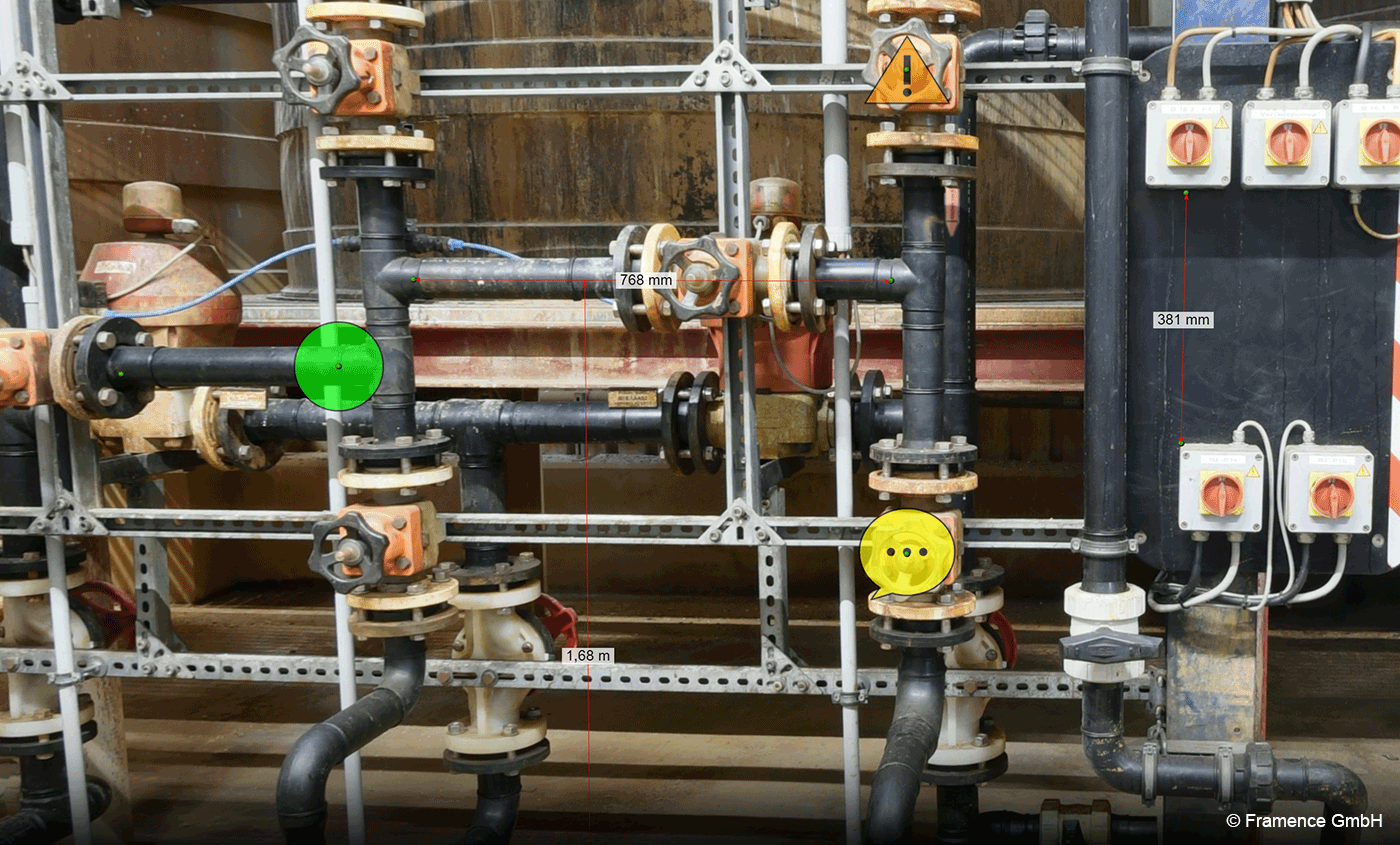 Smooth maintenance and repair require a plethora of information, ranging from current and historical data to individual asset features and local conditions. The absence of such information can lead to a considerable increase in costs.
By using FRAMENCE, you'll get an accurate representation of your assets without having to leave your office. You'll see the technical installation site in its true form and can identify any obstacles early on. Additionally, you can access current sensor and measurement values or information about previous actions right in the image model. You can even find notes, instructions, and videos directly on the technical installation through the help of PoI. In this way, you're reducing costs by ensuring smooth maintenance and repair processes.
Visual Construction Documentation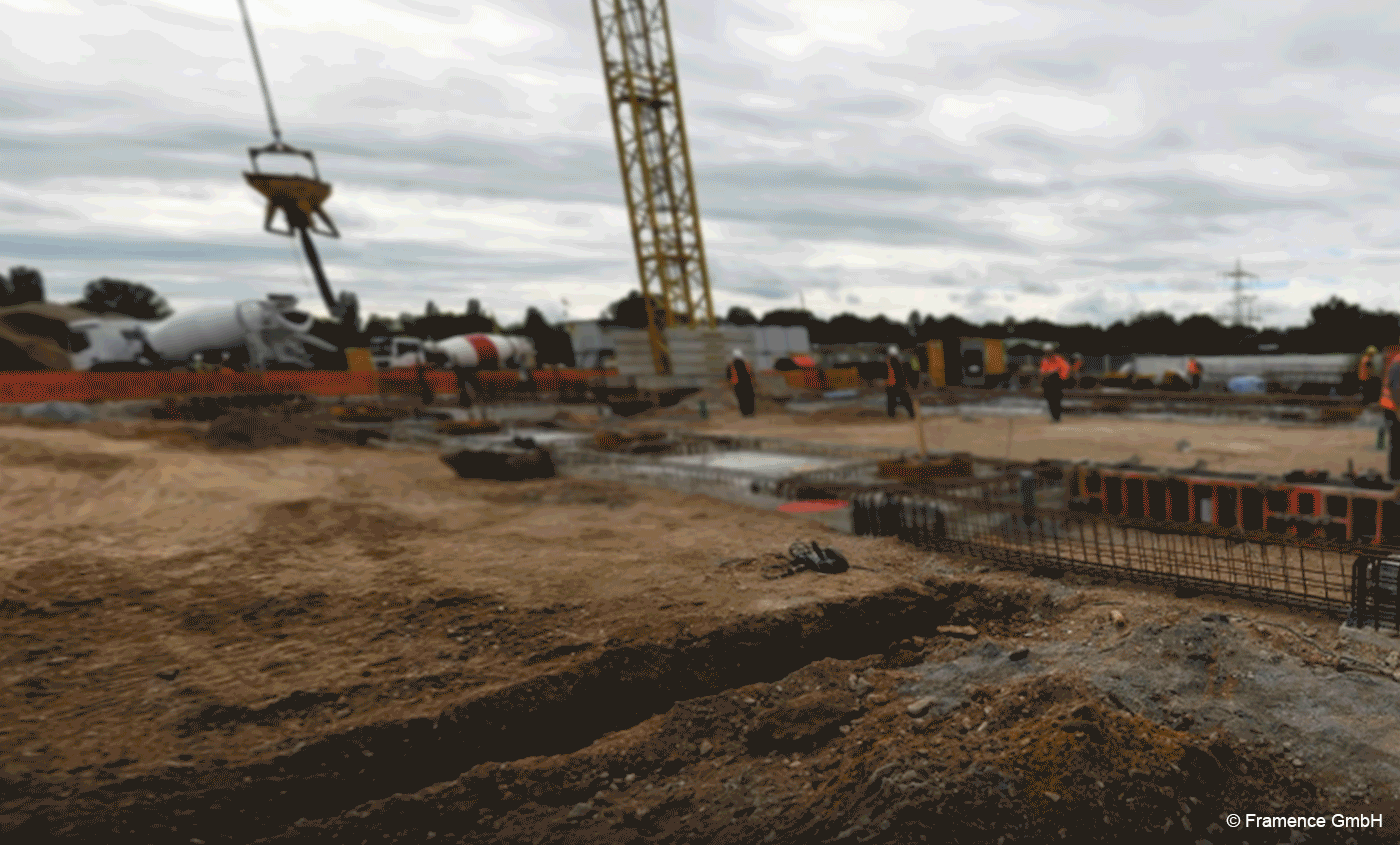 It's crystal clear that no project ever goes according to plan – be it due to fallible human decision-making or the unpredictable whims of local conditions. Deviations from the initial blueprint are the norm rather than the exception in construction.
By harnessing the power of cutting-edge technology, we've made it possible for you to document your construction projects with ease and accuracy. Our dimensionally precise image models, generated from a wide range of sources, from panoramas to cell phone snaps to drone footage, give you an incredibly detailed and comprehensive view of what's happening on-site. And with the integrated timeline feature, you can track the progress of your project over time and revisit past situations whenever you need to. Even hidden technical installations, like underground pipes, can be made visible once again.
Robotic Inspection and Maintenance Platform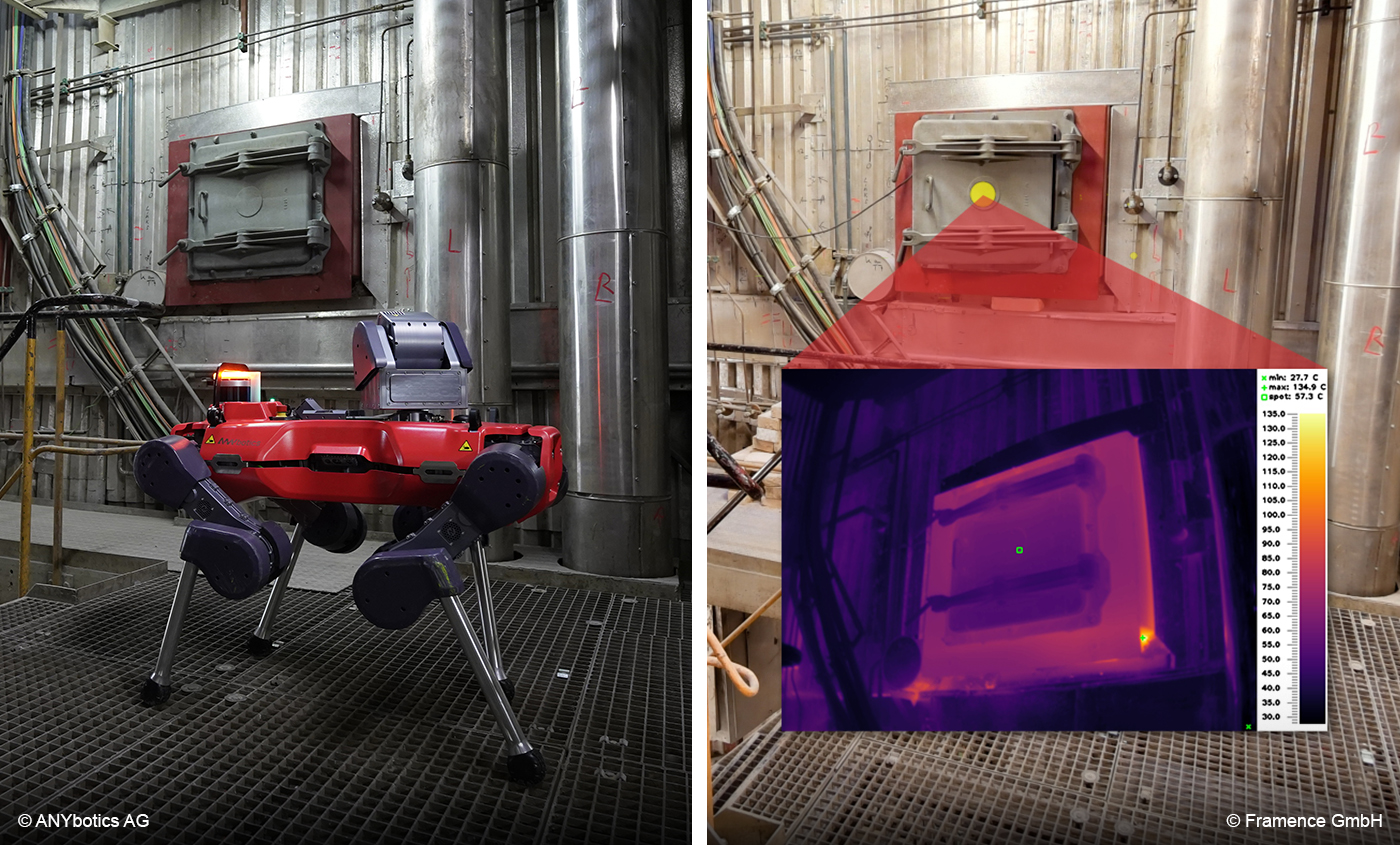 Autonomous robotic inspection solutions offer numerous advantages for industrial facilities, particularly in environments that are inhospitable, inaccessible, or hazardous for human workers. Nevertheless, the seamless integration of robots into daily operations often poses a multifaceted challenge that demands resolution for optimal utilization.
Leveraging the power of our photorealistic digital twin as both a user interface and data platform for robotic inspection tasks streamlines the incorporation of robots like ANYmal or any other autonomous inspection robot into the workforce. Planning and executing routine or spontaneous robotic inspection missions directly within the photorealistic environment is intuitive and efficient. Furthermore, the integration of inspection results directly into the digital twin provides users with a highly convenient end-to-end solution.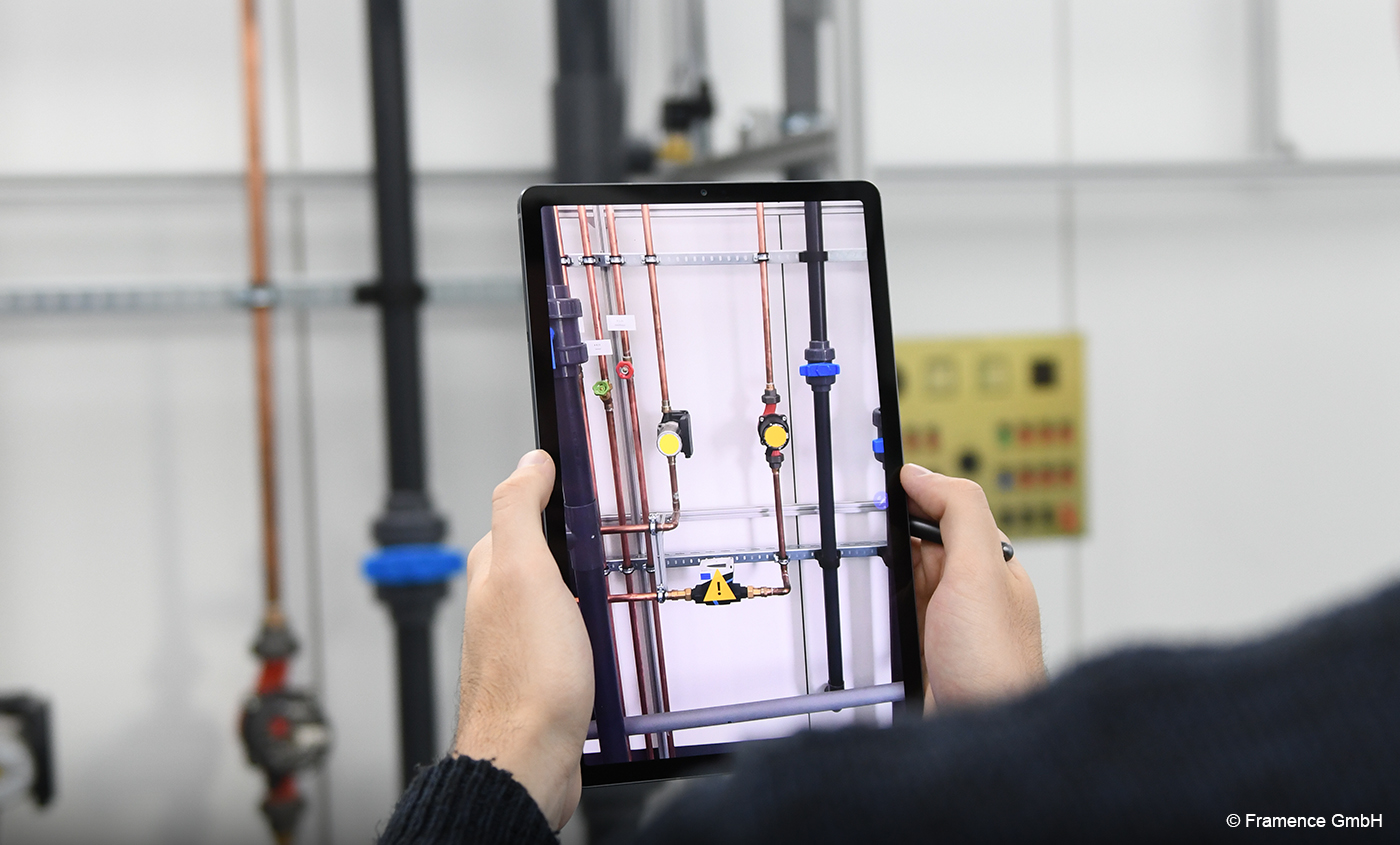 Augmented reality technology enables the projection of digital information onto the real environment, making it a powerful tool for on-site processes like maintenance and repair. However, the use of complex 3D models and position markers has made this process more complicated than it should be.
FRAMENCE takes augmented reality to the next level! No more complex models or markers needed. Our state-of-the-art image recognition technologies and AI automatically recognize your location and display the relevant information in the right place with centimeter precision. And with our chat and communication functions, you can collaborate with specialists in real-time, while every user can contribute directly via the digital twin.
Facility Management and Asset Operations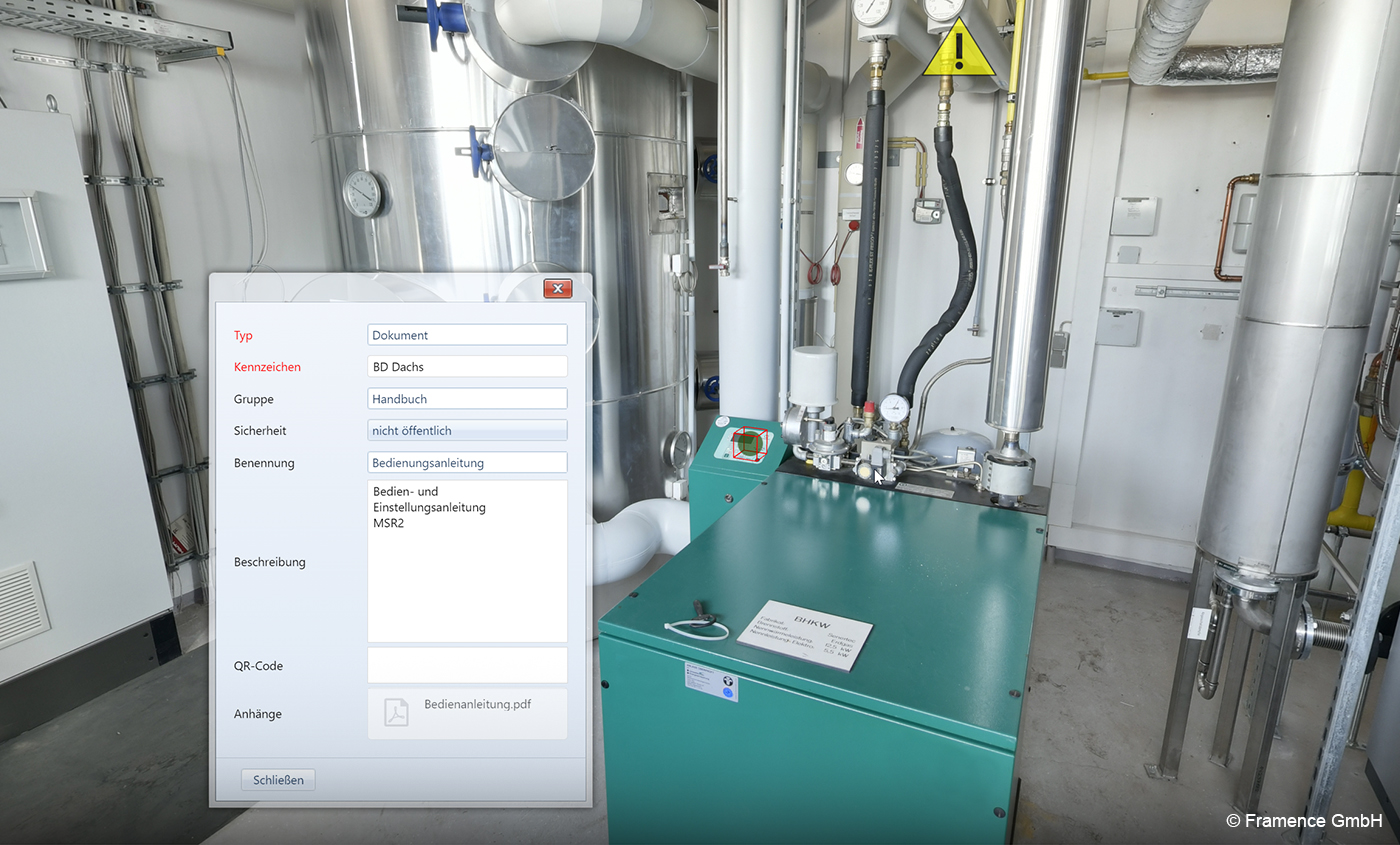 In facility management, up to 30% of work time is lost due to the chaos of data and IT systems. Important information is scattered across various platforms, leading to frustrating searches and wasted hours.
FRAMENCE eliminates this loss of productivity. With just a few clicks, you can visit any location virtually and get a realistic understanding of the environment. Important data, information, and documents can be located directly at the technical assets using PoI. You can display the data from all existing IT systems directly in the image or access external systems. This means you always have all the information you need at your fingertips, putting an end to the data chaos that causes so much wasted time in facility management.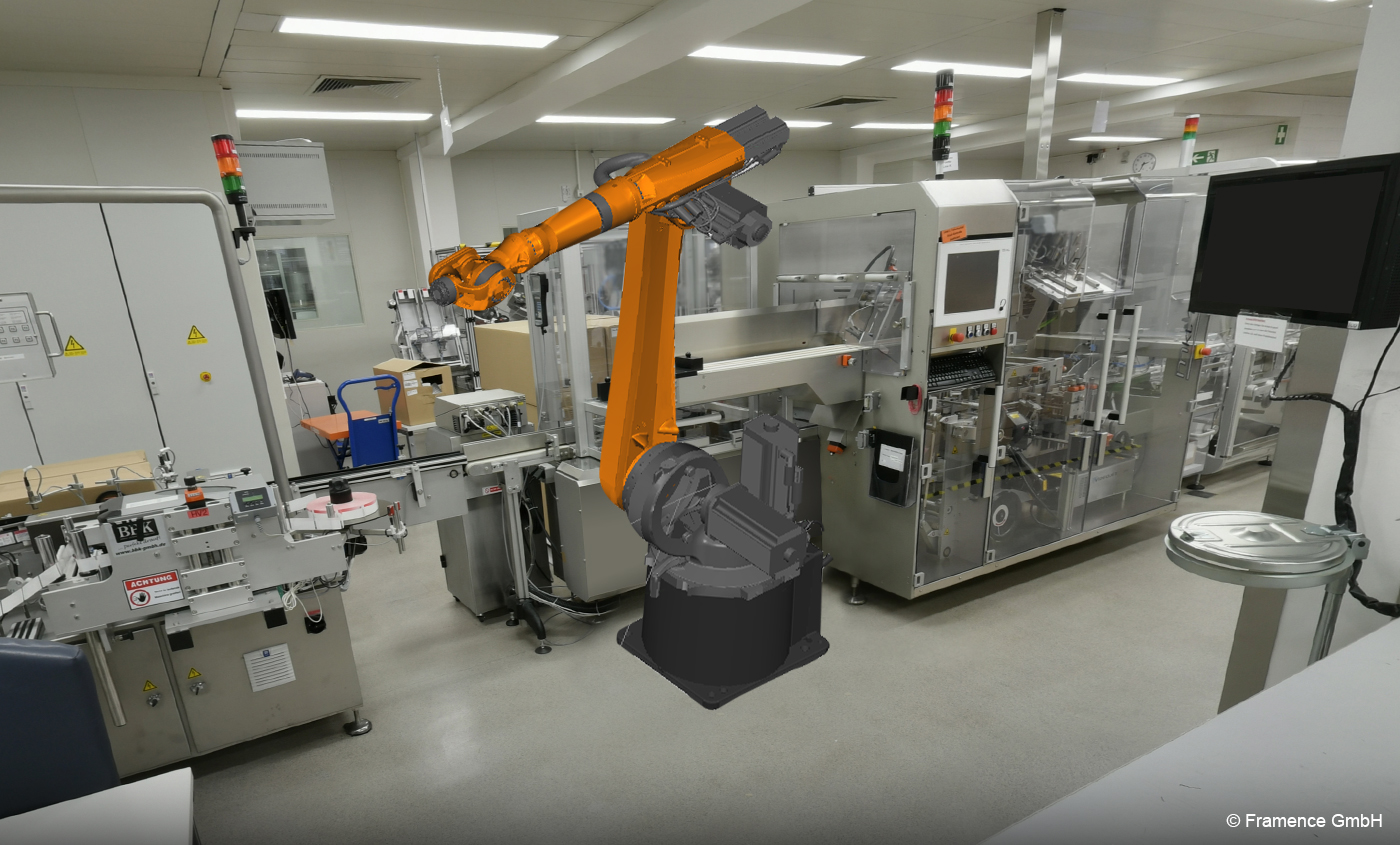 With so many construction projects taking place in existing buildings, it's essential to consider the prevailing conditions during the planning phase. But here's the catch: those conditions can be incredibly difficult to represent accurately in plans or models.
FRAMENCE is the ultimate solution for tackling this challenge head-on. Our groundbreaking approach enables dimensionally accurate preliminary planning directly within the image model. With this kind of precision at your fingertips, planning processes become easier and more tangible than ever before. We've made it incredibly easy to integrate 3D models or components from manufacturers in IFC or STEP format, all with just a few clicks of your mouse. With FRAMENCE, planning can take place in real reality – and if needed, it can be seamlessly translated into virtual reality too.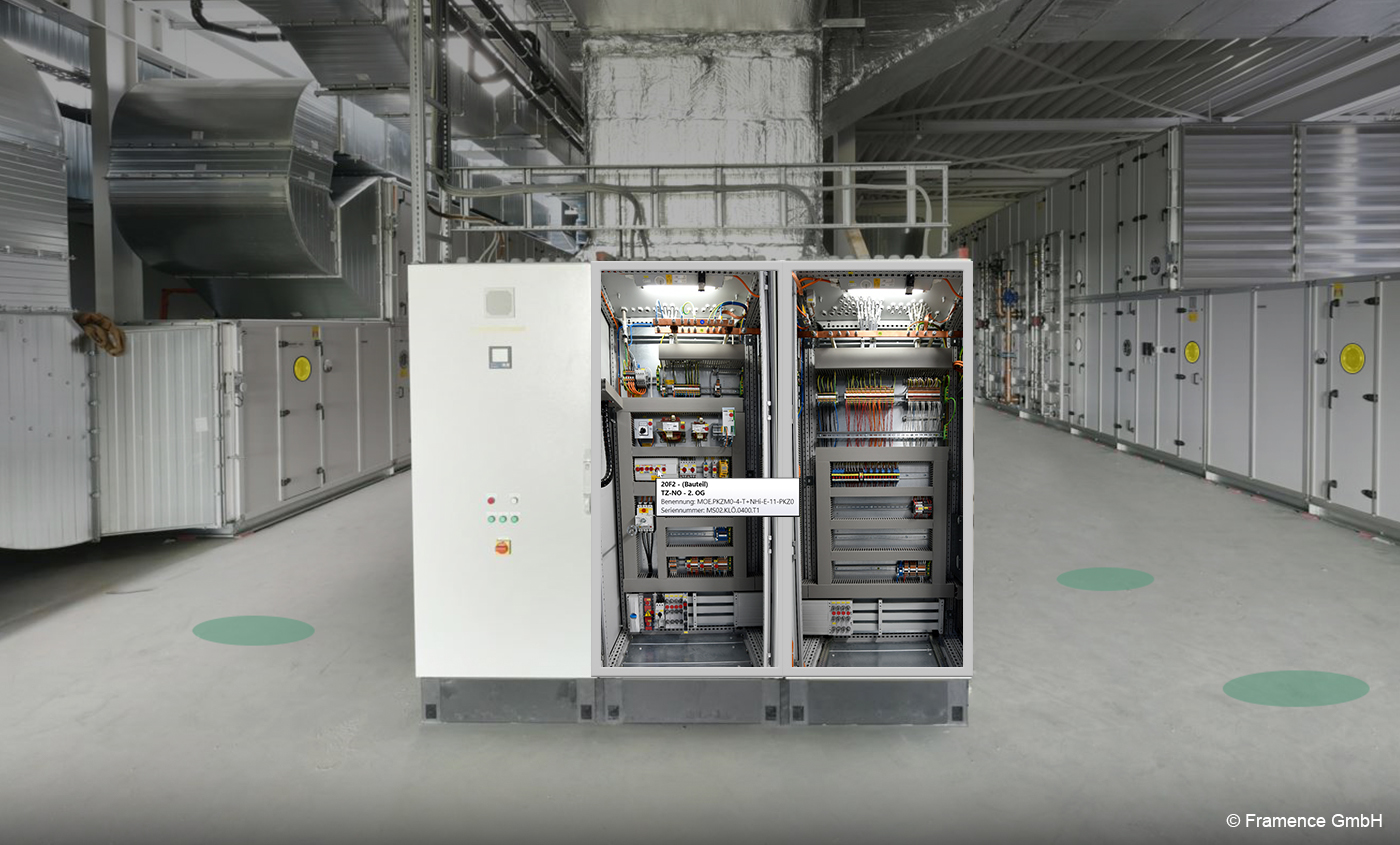 Training and onboarding new employees is essential, particularly when it comes to operating complex technical systems. However, conducting such training or onboarding directly at the plant can disrupt the normal operational process.
At FRAMENCE, we're making onboarding and training more efficient than ever before. With our state-of-the-art image models, we can bring the real world to you in stunning detail and at true scale. You can even see tiny details like nameplates and lettering in the digital twin. And with important instructions, information, and manuals precisely located, your employees will have all the details they need at their fingertips. Plus, our virtual reality feature lets your team experience your plants immersively. Say goodbye to costly and disruptive on-site training – FRAMENCE has got you covered.
Comparing As-Planned with As-Built Situations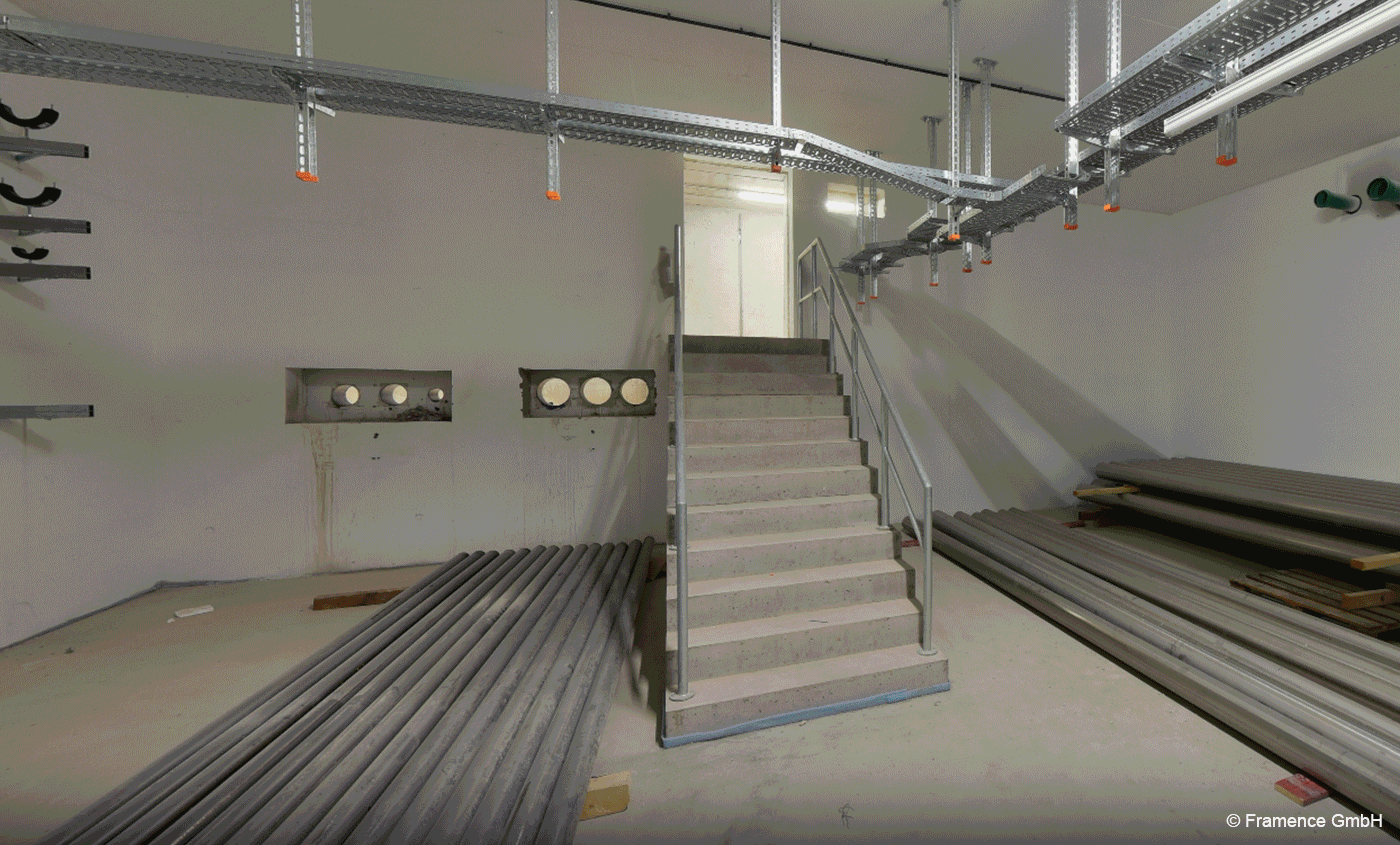 Buildings and facilities are always evolving – they're constantly being rebuilt and modified. That's why existing plans and models quickly become outdated, necessitating a costly on-site inspection for an accurate as-is analysis.
FRAMENCE makes comparing as-planned with as-built situations a breeze. With our advanced technology, you can conduct these comparisons from the comfort of your desk or home office. We support all common floor plan and model formats, accurately located in the 3D coordinate system. With just a mouse click, you can superimpose them on your digital twin and identify any deviations in real-time. And with our measurement functions, you can even evaluate the criticality of a deviation right in the image model.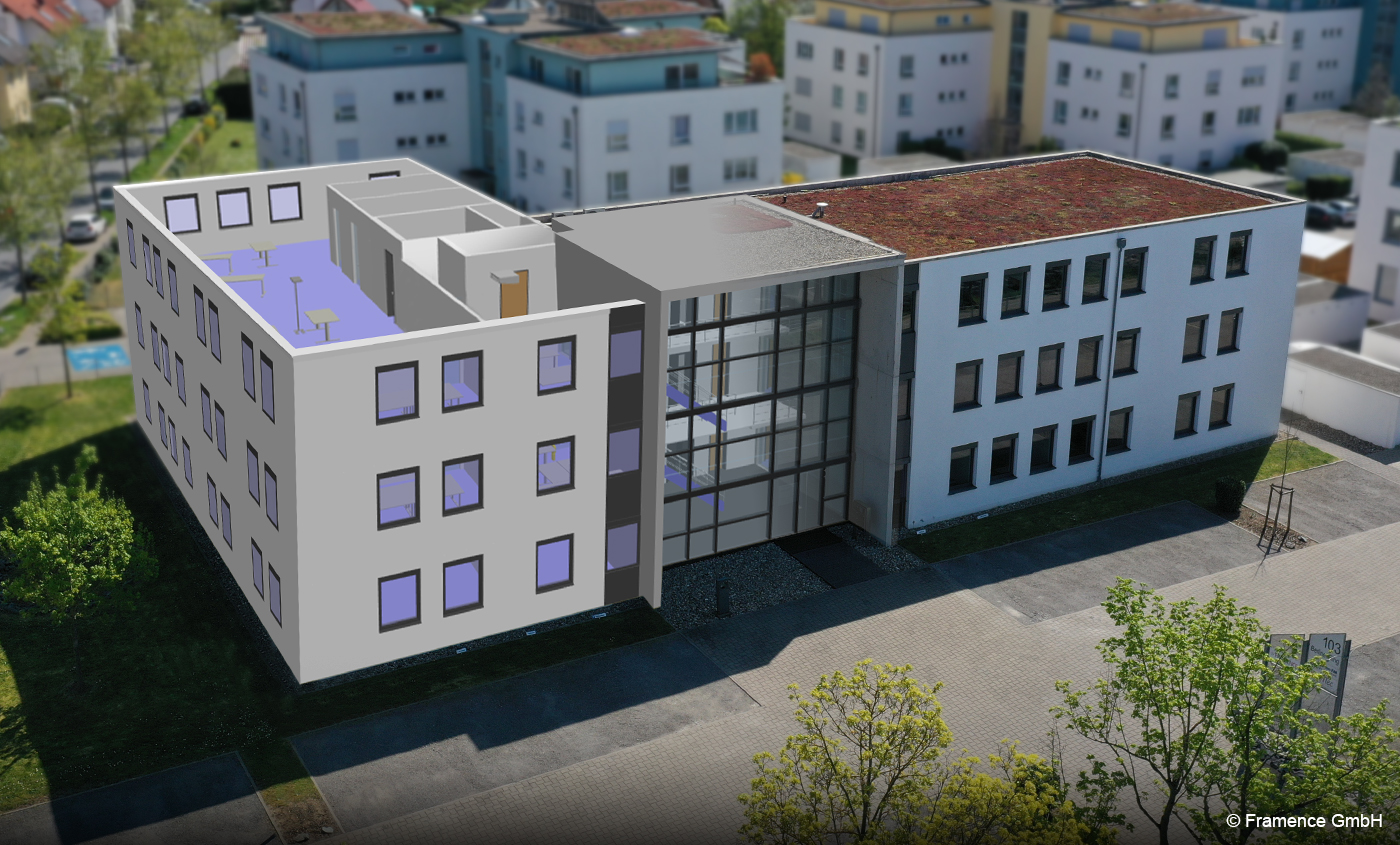 To achieve accuracy in conversions, new technical installations and planning processes, you need precise measurements and up to date information about the local conditions. However, the existing plans can often be outdated or incomplete, which can lead to high costs associated with taking new measurements.
With our cutting-edge technology, we can create dimensionally accurate 3D models using simple photos. With just a few clicks, our platform generates area and volume models directly from the images, allowing you to visualize and plan with ease. Our catalog of special objects such as walls, windows, doors, and piping can be placed effortlessly, and the integrated IFC interface allows the models to be exported to CAD systems for further processing. Plus, you can easily pass on the coordinates of individual objects or dimensional chains. It's a game-changer for the industry.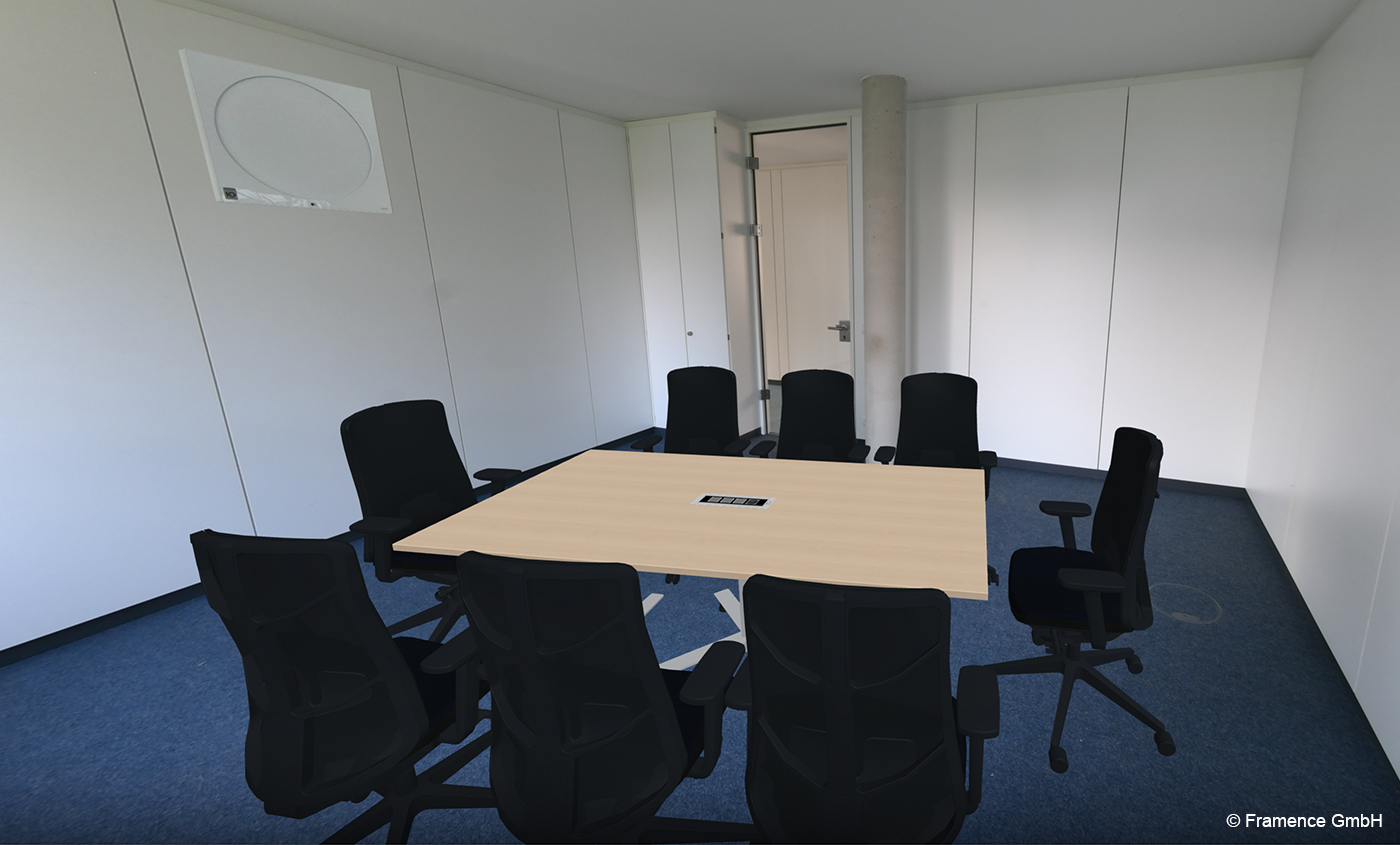 When it comes to equipping rooms and areas, we need to be more imaginative and forward-thinking. Users deserve to have an immersive experience when envisioning their environment, and that's just not possible with traditional plans.
FRAMENCE is the real deal when it comes to giving your users an accurate impression of their planned furnishings at an early stage while also supporting change management. You can integrate 3D objects directly into the FRAMENCE image models and overlay them on both screens and in virtual reality. You can also transfer the finished plans, equipment objects and all, into a CAFM system.
Showrooms for Complex Technical Installations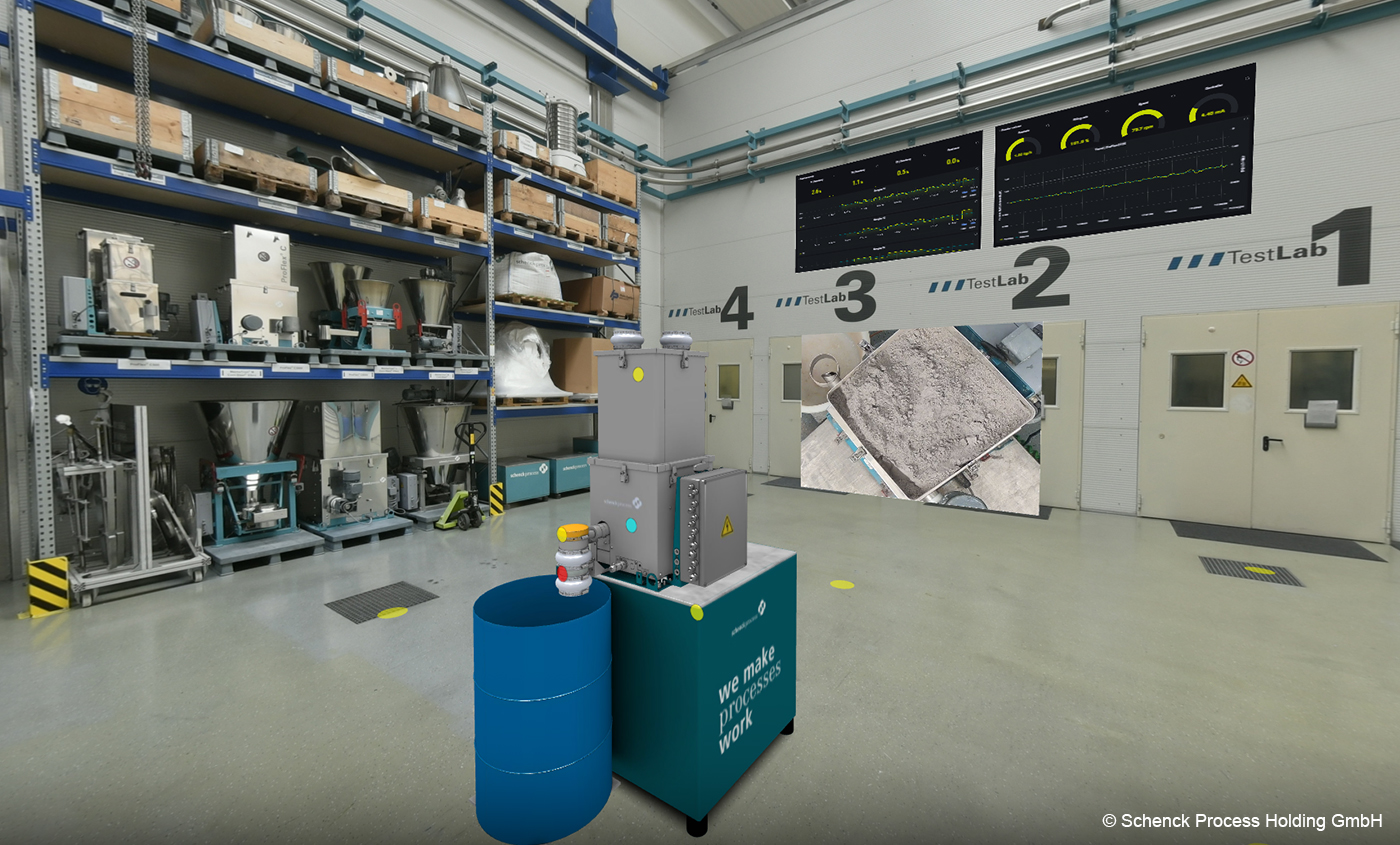 At Framence, we know that selling complex technical installations can be a real challenge. After all, clients want to see and feel the technical asset in action before making a decision. But here's the catch: shipping the technical installation to the client or having the client travel to the installation can be a major time and money sink.
With FRAMENCE you can let your clients experience your technical assets in stunning detail, without ever leaving the comfort of their own location. With high-resolution models embedded in a digital twin, clients can explore and interact with technical assets in a photorealistic way. Functional and explanatory videos, measurement data, sensor values, data sheets, and dashboards can also be superimposed for a fully immersive experience. Speed up your sales processes and save both you and your clients valuable time and resources with FRAMENCE.
Crime Scene Documentation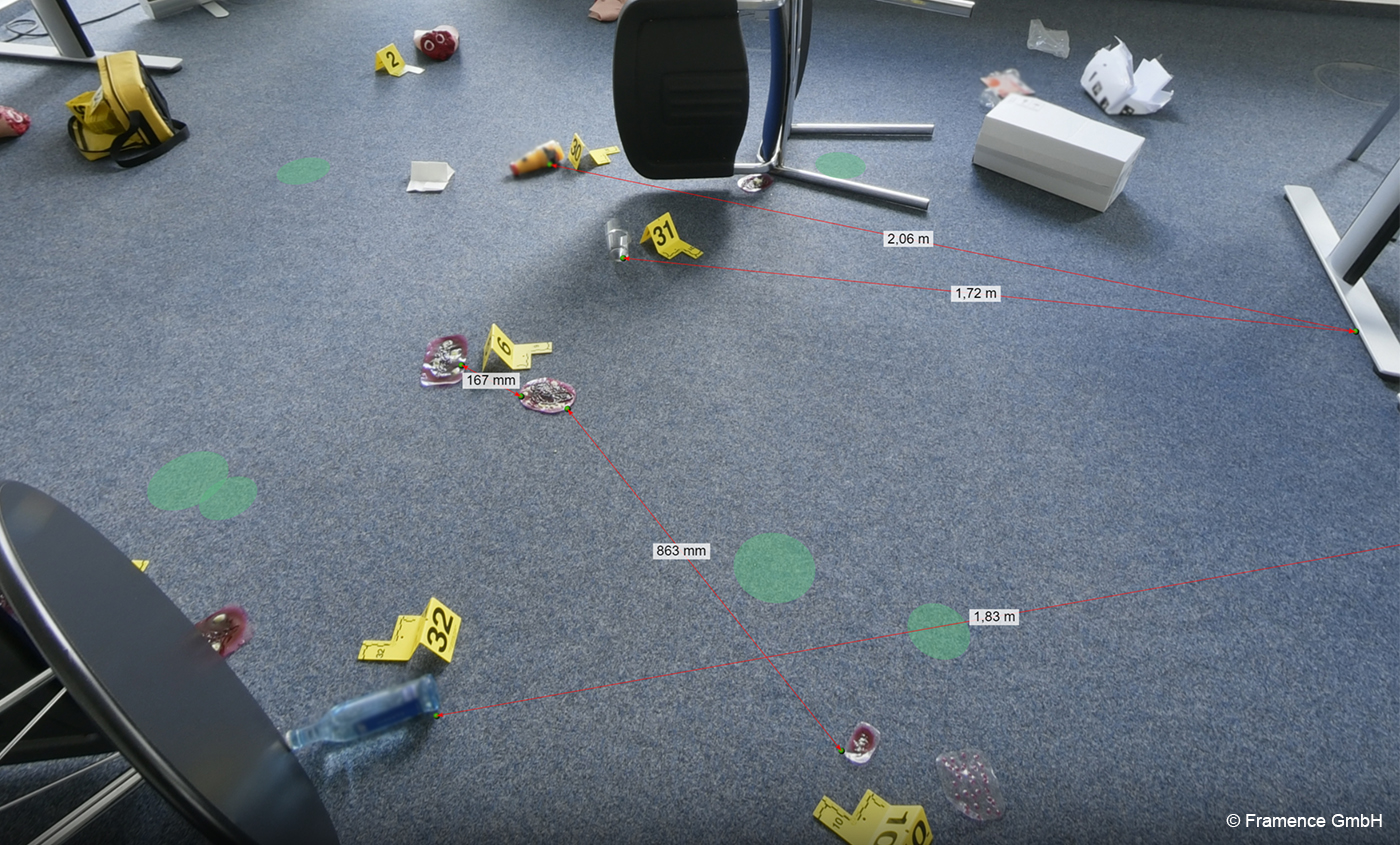 At Framence, we understand that documenting crime and accident scenes in a detailed and comprehensive manner is critical for investigators and law enforcement officials. However, we also recognize that this process can be incredibly challenging and time-consuming, requiring a significant amount of manpower and resources.
With FRAMENCE, you can use existing images to generate highly precise and detailed image models with minimal intervention. Thanks to our advanced methods, even the smallest details are visible in the resulting image models. And if you need to take measurements or dimensions, you can do so with just a few clicks, making it easier than ever to document and analyze crime scenes with unparalleled accuracy.