The state of the art methods of FRAMENCE make it possible for the first time to generate digital twins quickly, easily and above all to a very competitive price. With FRAMENCE, complex hardware and expensive specialists you won't need anymore – thanks to the latest IT and AI our accurate digital twins are automatically created from simple pictures.
Out of simple panorama,
drone and cellphone photos…

… thanks to photogrammetry,
mathematics, and AI become …
FRAMENCE replaces most physical visits - save yourself the hassle of traveling!
FRAMENCE documents the assets over their entire life cycle - you are always on the safe side!
With FRAMENCE you always have your assets in sight - no matter where you are!
All the information is based in the digital twin - no more hassle by searching for information!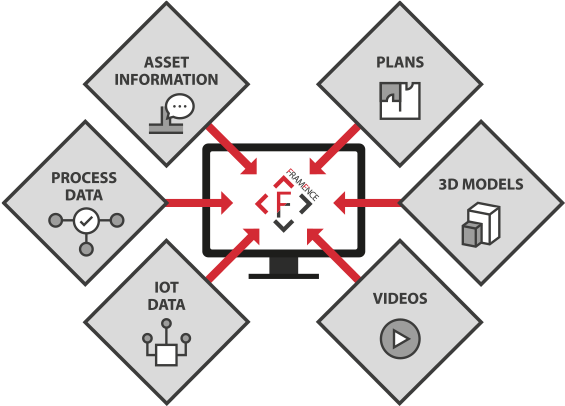 The FRAMENCE Platform
More than just a picture – the hybrid model
FRAMENCE is much more than just pictures – any information from external systems can be integrated in FRAMENCE and located in the correct position. Prints and models are overlapped on the pictures. Asset information and process or sensor data are visible in the image and can be pulled up with one click.
The FRAMENCE platform is your "single point of data access".