Use Cases
FRAMENCE is the solution to your applications
Centralised access to information
Numerous data are generated over the life cycle of an asset and must always be available. This is currently realized by relying on various IT-system for different applications. This leads to the problem of users having to spend lots of time looking through those systems when a certain data set is needed.
FRAMENCE brings an end to these time-consuming searches by providing a "single point of data access". All available data concerning an asset is located precisely within the picture model. When information is needed, all the user has to do, is click on the according object and it is displayed. Also, the user may be redirected to the third-party system and continue working there. In order to guarantee for data integrity, FRAMENCE does not store the data but passes them through.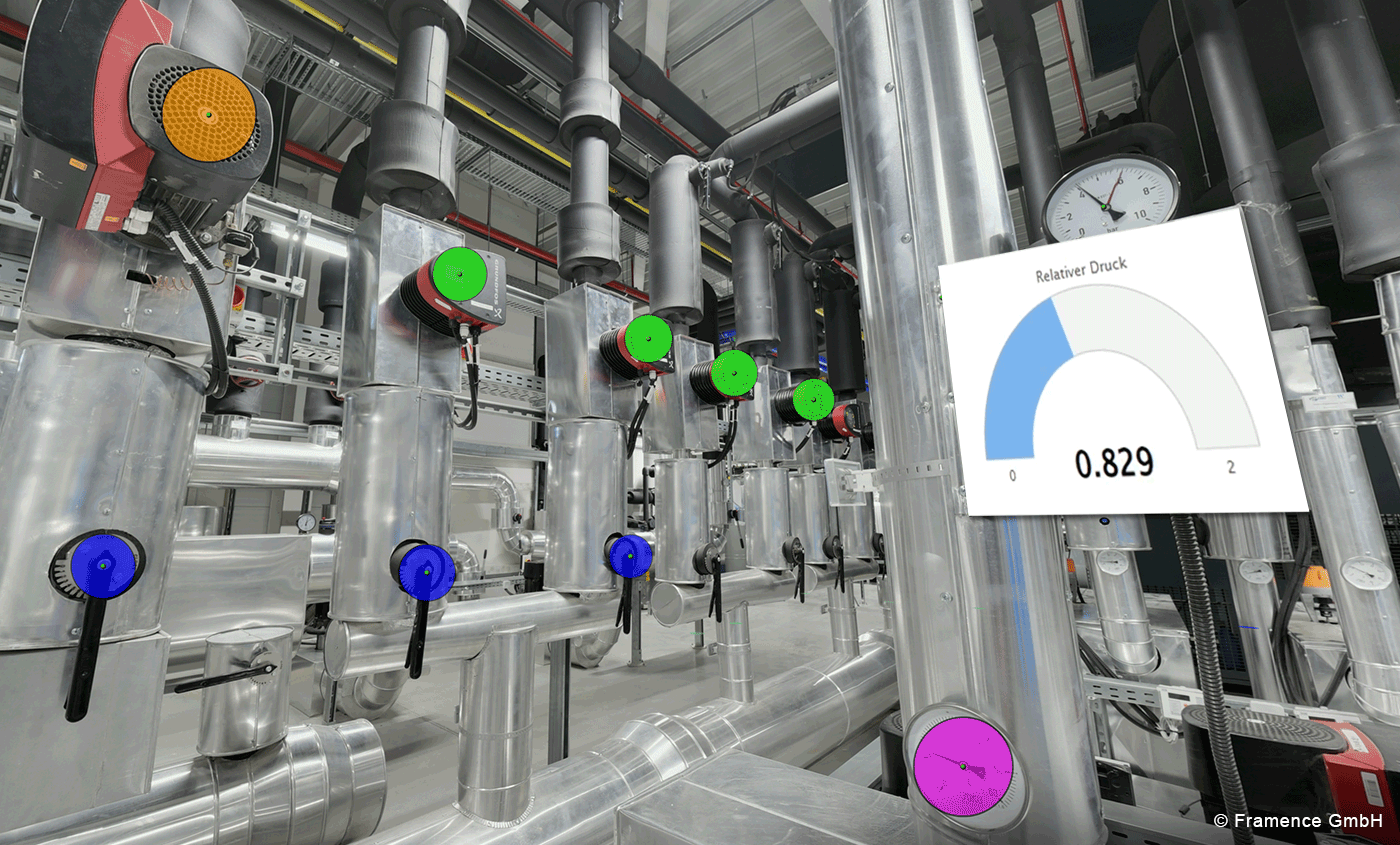 Up-to-date information is vital for the safe and reliable operation of buildings and technical installations – but providing for this is a major challenge for owners and operators.
Thanks to FRAMENCE, this comprehensive, up-to-date documentation of assets has finally become economically feasible. The picture models can easily be updated by new photos either on a regular basis or when something has changed. Previous situations can always be revisited using the integrated timeline. Critical or important assets can be identified and tagged with socalled Points-of-Information. Even data from third party systems can be made available. The user can access all information at the push of a button.
Supporting maintenance and repair
Effective maintenance and repair always rely on the availability of a number of important information. Beginning with current and historical data, individual features of the asset at hand all the way to the local conditions. In practice additional work is often necessary due to the lack of information.
FRAMENCE provides you with a clear picture of the situation, without you having to leave your desk. The images show the local environment as it is and problem can be spotted early. Using API, current sensor- and meter data as well as information on previous measures can bi displayed directly within the model. Even comments from colleagues or manuals and drawing may be integrated by using Points-of-Information.
Visual Construction Documentation
Practice keeps on proving that nothing is ever built the way it was planned. Whether they are due to human error or the local conditions, deviations from the plans exist in any construction project.
FRAMENCE enables you to easily create a comprehensive documentation of all your construction projects. The cm-accurate picture models, that are generated from panoramas, cell phone or drone images, always provide you with a precise impression of the location. Thanks to the integrated time line, the construction progress can be documented, and previous situations may be revisited over and over again. Even hidden installations such as ground pipes or foundations can be made visible at any time.
Augmented Reality is a technology that allows to project virtual information into the real environment. This technology can support many on-site processes such as maintenance and repair as well as remote support. Up to this moment, complex 3D-models and position marker were required for this.
FRAMENCE puts an end to this and enables information to be visible and displayed in reality without complex models or position markers. Thanks to state-of-the-art image recognition technologies and AI, the device used automatically recognizes where it is located and diplays the information in the correct place – at cm-accuracy! Thanks to an interactive chat and communication functions, external specialists can also be involved if necessary. Every user can provide additional information directly via the digital twin.
Staff concerned with the management and operation of buildings and technical installations spend around 30% of the working time searching for and locating information. This is due to the variety of data and IT-systems, which are indispensable for the individual operational processes. But they cause data chaos and lead to the time-consuming searches.
Thanks to FRAMENCE the times of time-consuming searches and the loss of productivity are finally over. The photorealistic digital twins represent reality exactly as it is. The user can virtually visit any location by pressing two buttons and get an acquainted with the situation at hand. Points-of-Information allow for the precise positioning of data, information and documents directly at asset concerned. To avoid data redundancy, modern interfaces link to existing third party systems, or the information can also be displayed directly within the image. Thereby the users have direct access to all the critical information and time consuming searches are a thing of the past.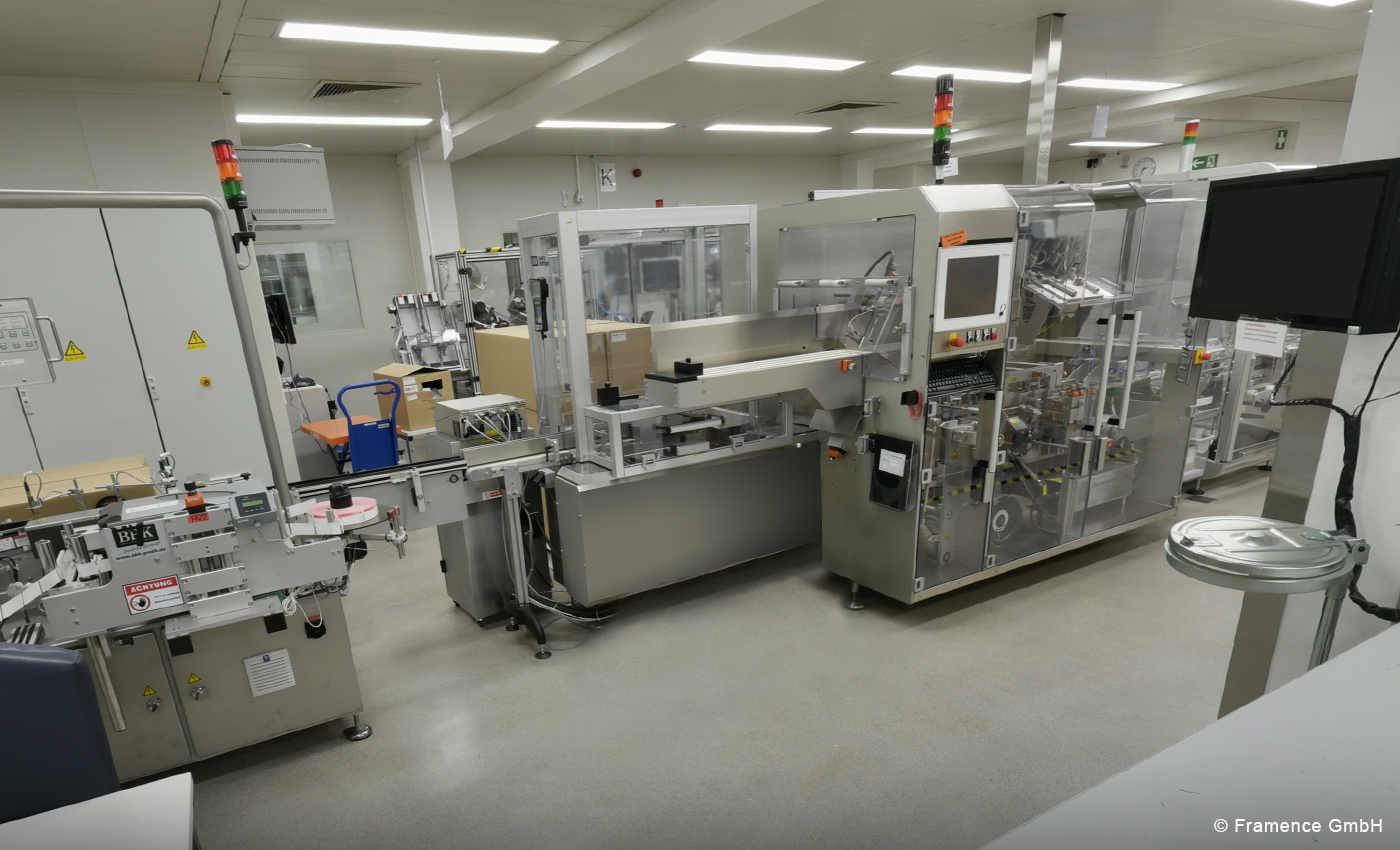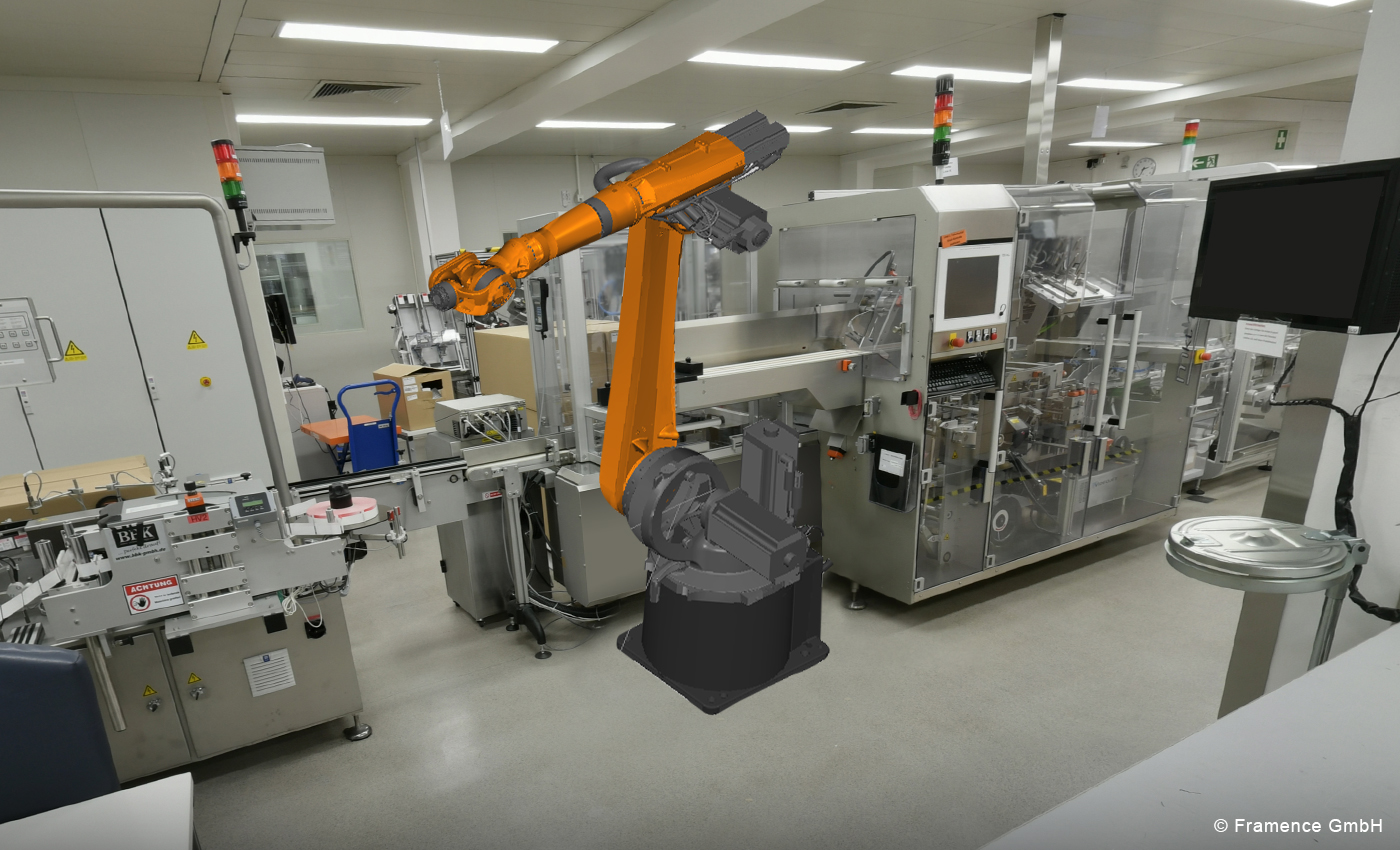 Most construction projects within organizations' are nowadays brownfield projects. During the planning process the existing environment with all its details has to be taken into account. Plans and models can display all those details only to a very limited extent.
FRAMENCE helps you with these tasks and allows for a precise pre-planning directly within the picture models. Planning within the picture is not only easier and much more realistic, it also safes you from unpleasant surprises. Existing 3D-models either in the ifc or STEP-format can be integrated and placed within the picture model using your mouse. This allows for the planning process to take place in the environment – and it can even be displayed in virtual reality when needed.
An effective onboarding of new staff as well as the provision of training is vital especially when operating complex technical installations or assets. In most cases, this onboarding and training has to be done directly at the equipment at hand. This regularly interferes with the normal day-to-day operations.
FRAMENCE provides a solution by making reality available virtually. Thanks to the picture models, the real environment can be displayed in high resolution, true to detail and to scale. Even the tiniest details such as nameplate or labels are visible within the model. Important instructions, information or manuals can be precisely located so that the user has all the details always in sight. If necessary, the digital twins can also be displayed using Virtual Reality devices, making the experience fully immersive. Training and onboarding havs never been easier.
As-planned / as-built Comparison
Buildings and technical installations are subject to ongoing changes. They are constantly being reconstructed, changed and altered. This lead to all existing plans and models becoming obsolete very quickly. For any as-is analyses, costly on-site trips and inspections are necessary.
FRAMENCE enables you to do these on-site visits and inspections from the comfort of your office or home. All common formats for plans and models can be imported and positions in the coordinate systems. With a simple click the can overlap the image and existing deviations can be identified and commented directly. Using the measuring functions, the criticality of any deviation can be assessed and evaluated directly within the picture model.
When looking at modifications, retrofitting or planning processes, specialists are in need of precise dimensions and information about the local situation. Existing plans and models are often outdated or incomplete and a new survey is always associated with substantial costs.
With FRAMENCE you can create accurate 3D-models from simple photos only. With a few clicks, surface and volume models can be generated directly from the picture model. Specific objects such as walls, windows, doors or pipes can be created from catalogues. The models can be exported to your existing CAD-tool using the integrated IFC-interface. The coordinates of individual objects as well as dimensions can be exported in the same way.
Nowadays the equipment planning of rooms and spaces mainly takes place on the bases of plans – this is in fact the most efficient and simplest way of planning. For the future users, it is often difficult to imagine the environment based on those plans.
FRAMENCE offers you the chance to provide your users with a real impression at an early stage and thus support the change management. Furniture and furnishings can be integrated as 3D-objects directly into the FRAMENCE picture models and superimposed – both on your screen and within your virtual reality device. The actual planning still takes place in 2D, the 3D visualization is derived from it automatically. For a smooth process, the finished plans including all furnishings can be transferred directly into your CAFM-system.
Crime Scene Documentation
The detailed and extensive documentation of crime scenes and accidents has always been a major challenge for the specialists. It's not only all the important details that have to be captured, but they have to be documented to scale.  This requires substantial amounts of manpower, that is not always readily available.
FRAMENCE can help with this process, by combining the pictures that are already used on a daily basis with our modern IT-technologies. Based on the photos, which are taken in almost no time, accurate and precise pictures models are automatically generated. Thereby any crime scene or accident may be documented comprehensively in a short period of time. Using state-of-the-art high resolution camera equipment, even the smallest details are visible. Whenever measurements or dimension are needed, that can be taken directly from the picture model with just two clicks.
Showrooms for fairly complex technical assets
Selling complex technical assets and machinery is often based on the fact that customers want to get hands on their assets and living them in full operation. Consequentially, either the asset needs to travel to the customer's site, or the other way round. In both cases, though, a considerable amount of time and costs is inevitable.
As a practical way out of this dilemma, FRAMENCE enables your customers to have a full live-experience of their assets without being obliged to travel anywhere. High resolution models of their assets can seamlessly be embedded into the Digital Twin to have photorealistic presentations. The customer can just select the requested asset and has a closer look on it. Thanks to a variety of interfaces available, customers can fade in functional- as well as explanatory videos, measured data, sensor values, data sheets or even dashboards to allow a really comprehensive customer experience. Thus, you can significantly accelerate your sales process by saving time consuming travels, for both yourself and your customer.
The photo-realistic digital twins from FRAMENCE offer many other applications and possibilities to make your business processes easier, better and faster. If you have a USE CASE for our digital twins that is not yet listed here, we look forward to your inquiry.