When talking about Industry 4.0 and digital transformation, the terms virtual reality and augmented reality are often mentioned. There is much discussion about these topics, but very few companies do use the technologies effectively. Especially when it comes to the implementation of Augmented Reality (AR) in industrial environments, the challenges companies are facing today are still very high. AR has already reached the consumer market, but only in the field of entertainment. With a totally new method, Framence has succeeded in using AR in industrial applications cost effectively.
Many industry sectors are subject to changes by digital transformation. New technologies are revolutionizing processes and working methods. Augmented Reality belongs to those disruptive technologies that are supposed to initiate change.
The whole idea behind AR in industrial applications is on-site support. Whether via remote assistance, or via displaying additional information or instructions on different devices (see infobox). There are already various methods of integrating AR in industrial environments in place. A common method is to model the corresponding area completely in 3D to be able to fade it into the real environment. The 3D model must be kept up to date on a regular basis to ensure usability in case of any modifications or changes. However, this is extremely complex and ineffective in many cases. Another method is the simple use of AR glasses, which are intended to replace on-site visits by service providers and internal specialists with video consultations. Repairing instructions are displayed in the AR-Glasses to support the service technicians on site. However, this kind of "live streaming" does not allow the integration of important IoT data, which can be essential for service execution and adequate maintenance.
FRAMENCE provides a very cost-effective solution
FRAMENCE-AR is based on the technology of the photorealistic Digital Twin extended by the relevant AR application. Thanks to this method, no complex 3D models are necessary anymore as we are using Digital Twin data. Unlike "live streaming", it is possible to interact with the environment and display sensor data (IoT), points of information (PoI) and additional information onto the live image of the tablet or smartphone. All important information can be simultaneously accessed on the computer as well as on site with AR.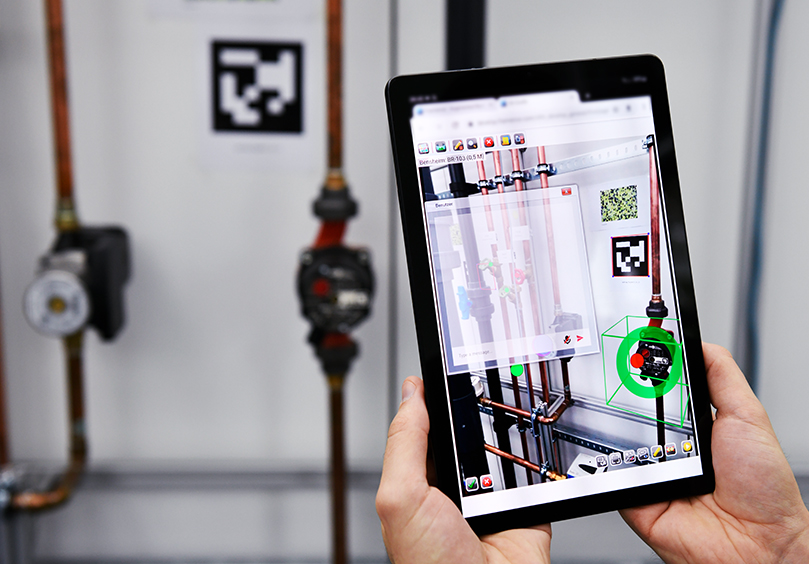 Maintenance process with FRAMENCE-AR
The scenario (picture) shows a maintenance process in which a pump needs to be replaced. Thanks to markers, AI and feature points, accuracies of 1 to 2 centimeters are easily achievable – even small objects such as circuit breakers can be precisely marked. This is a decisive advantage when working in restricted areas. In case a specialist is not on site, he can transfer the live image of the service technician on his computer. Using the chat feature and voice control, helpful on-site instructions can thus be guaranteed. Thanks to the marker features and the extreme accuracy, there is no ambiguity regarding the objects. The service technician on site as well as the specialist in the "back office" always face the real picture and do not depend on a 3D model. After completion of the maintenance process, all changes can be documented by taking simple images. These changes can always be tracked for any future maintenance activities.
Thanks to FRAMENCE, AR applications can already be implemented easily at low cost today. Consequentially, this new method can play an even more important part in the industrial environment in the future.
Infobox: Augmented Reality (AR) vs. Virtual Reality (VR)

Virtual Reality enables users with VR glasses to dive into a virtual world, to navigate and at best to interact with it. In the case of Augmented Reality ("extended reality"), the user's field of vision in the real world is extended by additional information, such as graphics or instructions. In contrast to VR, reality is not faded out in AR. With AR technology, you can use special AR glasses, tablets or smartphones.